Berkey Black Element Replacement Filters for Big, Travel, Royal, & Crown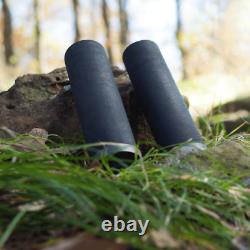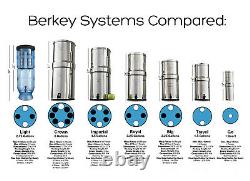 Berkey Black Element Replacement Filters for Big, Travel, Royal, & Crown. Berkey Water Filters are the worlds most powerful and cost effective personal water purification systems as verified by independent testing. Our filters are gravity fed and will purify water from bacteria, viruses, chlorine, pesticides, herbicides and other harmful toxins. Each durable Black Berkey Water filter will last up to 3000 gallons (6000 gallons per set of 2). This is significantly longer than most filter solutions on the market.
2.5 G / hr. 3.5 G / hr. 5.5 G / hr. 6.5 G / hr.
Trihalomethane (THMs) To Undectectable Levels. Pharmaceuticals - Greater than 99.5%. Petroleum Contaminants Greater than 99.9%. Bisphenol-A (BPA) Greater than 99.9%. Perfluorochemicals (PFOAS) - Greater than 99.9%.
Herbicides & Pesticides - Greater than 99.9%. Coli - Greater than 99.9999%. Chlorine Removed to Undetectable Levels.
Viruses Greater than 99.9999%. Chloramines Greater Than 99.9%. Parasites - Greater than 99.9999%. Fluoride Up to 99.75% (With Add-on PF-2 Filters).
Heavy Metals Greater than 99.9%. True Cost of Clean Water. Our Black Element filters not only filter water to the highest purity but they do so at the lowest cost of any alternative; roughly 2 cents per gallon. Compare that to Brita filters (10 cents) and bottled water (149 cents). The black element filters can easily purify tap water, yet are powerful enough to purify raw, untreated water from lakes and streams.
In the event of a natural disaster, they can be essential in removing viruses, pathogenic bacteria, cysts, parasites, pesticides, herbicides, pharmaceuticals, heavy metals, and impurities all below detectable levels. Travel Berkey with 2 Black Element Filters. Brita Grand 10 cup Pitcher (Classic Filters). 12 Pack of 16 oz.
Total Cost After 1 Year. Total Cost After 2 Years. Total Cost After 3 Years.
Total Cost After 4 Years. Total Cost After 5 Years.
Total Cost After 10 Years. Average Resale Value of Used Empty Unit.
Usage was calculated for a family consuming 1095 Gallons per year. Basic Pitcher Filter units like Brita operate on the Razor and Blades model. Cheap upfront cost and repeated overpriced replacement cartridges.
Besides being much more costly these filters are far inferior as they cannot filter Bacteria, Viruses, Pesticides, Lead, VOA's, and more. Berkey filter media are powerful enough to safetly filter lake, rain, river, or well water. They do so affordably and sustainably.
Berkey offers a range of accessories from stands, spouts, drinkware, carrying cases, priming pumps, and disaster preparedness tools. Here's a preview of some of the most popular Berkey accessories. If you can't set up your Berkey on the edge of your countertop or table you will want a stand. These stands help to sufficiently raise your spout so that you can fit your glasses, pitchers, and cookware underneath when filling up.
We offer two stands of varying heights and styles. The Official Wire stand is 5 inches tall and should fit small glasses and mugs and the Premium Stand is 7.5 inches tall and will let you fill up larger containers.
Every Berkey system ships with a standard plastic spigot but we offer several spout upgrades. If you want to see your water level at a glance the sight glass spigot will show when you need to refill. The Vino-spigot uses a side to side lever which allows for variable water flow control. Or you can avoid plastic entirely by upgrading to our stainless steel spigot. All spigots will fit on any stainless steel Berkey system.
To organize all these Berkey accessories on the go, the Berkey Tote secures your Berkey system, filters, and accessories during transit. It's made from durable polyester and includes a Berkey Element case to pack up to two dry or properly stored Berkey Element filters.
For those who want to bring fresh water without the weight, the Sport Berkey bottle is ideal for camping or hiking. Our Black Berkey primer is a solution for those who need to prime their filters but either don't have access to clean pressurized water or do not have a sink deep enough to prime their filters using the standard priming button. And if you just want to drink at home in style we now sell a 4-pack of Berkey stainless steel tumbler drinkware. The item "Berkey Black Element Replacement Filters for Big, Travel, Royal, & Crown" is in sale since Wednesday, August 5, 2020.
This item is in the category "Home & Garden\Kitchen, Dining & Bar\Small Kitchen Appliances\Water Purification\Water Filters". The seller is "ltor11" and is located in Poncha Springs, Colorado.
This item can be shipped worldwide.
Model: Berkey
Country/Region of Manufacture: United States
Item Depth: 8 in
Number of Filtration Stages: 2-Stages
Item Width: 8 in
Compatible Brand: For Berkey
Material: Plastic
Item Weight: 10 lbs
Brand: Berkey
Manufacturer Warranty: 2 Years
Suitable For: Household
MPN: BERKEY-BB9-2-2PK
Capacity: 2 L
Item Height: 9 in
Manufacturer Color: Black
Color: Black
Filtration Method: Carbon/Charcoal
Contaminant Removal: Fluoride
Number in Pack: 1
Compatible Model: For Aqua Optima Evolve
Type: Water Filter