4 Black Berkey and 4 PF-2 Fluoride Filters Big Travel Royal Crown Imperial BB9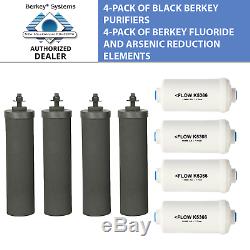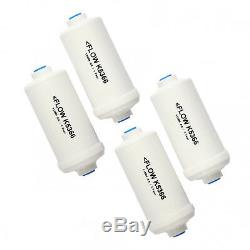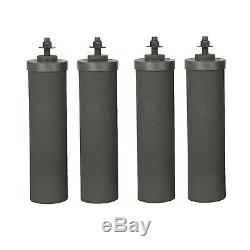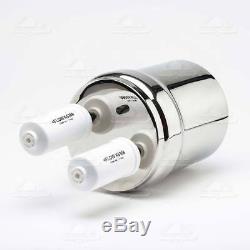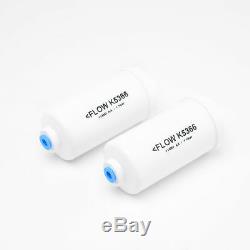 4 Black Berkey and 4 PF-2 Fluoride Filters - Big Travel Royal Crown Imperial BB9. 4 OF BLACK BERKEY (BF2) REPLACEMENT FILTERS. The Black Berkey filters (BF2) used in all Berkey systems take water filtration to a new level.
During testing conducted by independent, EPA-approved laboratories, the Black Berkey filtered out a long list of water contaminants with never-before-seen results and significantly raised the standard for the water filter industry. As a result, Black Berkey filters are some of the most efficient filters that are currently available on the market. The Berkey water filter fluoride reduction elements (PF2) work by adding the ability to remove the following contaminants: Flouride, MBTE, Pre-oxidized Arsenic III and Arsenic V and other heavy metals.
When threaded directly onto the Black Berkey® purification elements the fluoride reduction element is an effective way to take control of targeted harmful contaminants in your drinking water. These fluoride water filters work as a post filter to the Black Berkey and is compatible with all Berkey water filter systems.
Four Black Berkey Filters (BF2). Black Berkey replacement filters will fit the following systems: Berkey Light, Big Berkey, Royal Berkey, Imperial Berkey, Crown Berkey, Travel Berkey.
Berkey Fluoride Filters (PF2) attach to the Berkey Black filters (BF2) and reduce fluoride and arsenic. PF2 filters and are compatible with all Berkey water filter systems. Each Berkey filter element has a life of 3,000 gallons: That's an incredible 6,000 gallons for a two-filter system and 12,000 gallons for a four filter system! Each set of two Berkey PF-2TM fluoride water filters should be replaced after 1,000 gallons (3,785 liters). 4 OF BERKEY FLUORIDE WATER FILTERS (PF2).
The Berkey fluoride filter, or PF-2 Fluoride and Arsenic Reduction Filter, adsorbs the following unwanted elements found in drinking water. Fluoride: Sodium Fluoride, Sodium Fluorosilicate, Fluorosilicic Acid (aka Hydrofluorosilic Acid). Arsenic: V and pre-oxidized Arsenic III.
Other residual heavy metal ions. Made from safe, non-leaching Polypropolene #5 that is BPA-free. PF-2 Fluoride and Arsenic reduction Filters are designed to be used in conjunction with the Black Berkey Purification Elements only. Attach to the bottom of the Black Berkey Elements and sit in the lower chamber of the Berkey unit. Number of PF-2s in the bottom chamber must match the number of Black Berkey Purification Elements in the top chamber; for example, 4 Black Berkey Purification elements would require 4 PF-2 Filters. Set of 2 PF-2 Filters need replacement after 1000 gallons of use.
Our mission is to provide the highest quality of service and products in the water treatment industry. Therefore, through our commitment, our customers can be assured that their future filter requirements will be fully met with state of the art solutions. The item "4 Black Berkey and 4 PF-2 Fluoride Filters Big Travel Royal Crown Imperial BB9" is in sale since Thursday, August 11, 2016.
This item is in the category "Home & Garden\Kitchen, Dining & Bar\Small Kitchen Appliances\Water Purification\Water Filters". The seller is "filterway" and is located in Oceanside, New York. This item can be shipped worldwide.
Type: Gravity Filters
Brand: Berkey
MPN: BB-4-PF-4
Filtration Method: Gravity Filter
Color: Black/White
Model: Black Berkey Filters & PF-2 Filters
Country/Region of Manufacture: United States