2 Black Berkey and 2 PF-2 Fluoride Filters New Royal Big Crown Imperial BB9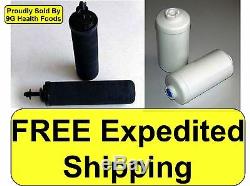 We hope you'll consider us to supply your next Big Berkey Water Filter (or parts). Set of 2 Replacement Black Berkey.
Purifiers and 2 Berkey PF-2 Fluoride Water Filters. Big Berkey, Royal Berkey, Imperial Berkey, Crown Berkey, and Berkey Light.
Let us know and we'll create a new listing for them. We carry any parts and filters you need for your Berkey Water System. The Black Berkey Purification Elements are more powerful than any other gravity filter element currently available. In fact, the Black Berkey purification elements were tested with more than 10,000 times the concentration of pathogens per liter than is required by standard test protocol. This concentration of pathogens is so great that the post filtered water should be expected to contain 100,000 or more pathogens per liter (99.99% reduction - the requirement for pathogenic removal).
Incredibly, the purification elements removed 100%. Absolutely no pathogens were cultured from the effluent or were able to be detected, even under an electron microscope, setting a new standard in water purification.
Black Berkey purification elements are so powerful, they can remove red food coloring from water without removing the beneficial minerals your body needs. Virtually no other filtration element can duplicate this performance. The powerful Black Berkey purification elements also remove or reduce viruses, pathogenic cysts, parasites, harmful or unwanted chemicals such as herbicides and pesticides, VOCs, detergents, organic solvents, trihalomethanes, cloudiness, silt, sediment, nitrates, nitrites, heavy metals, foul tastes and odors, yet they leave in the healthful and beneficial minerals that your body needs.
PF-2 reduction elements are designed for use in conjunction with Black Berkey water purification elements to adsorb the following unwanted elements found in drinking water: Fluoride, Arsenic V and pre oxidized Arsenic III, Other residual heavy metal ions TECHNICAL INFORMATION: FLUORIDE: Testing for fluoride was based on 20-30ppm of the ion in the influent aqueous solution at a flow rate of no more than 3 gpm per cubic foot of media. Under optimum conditions, effluent concentrations of less than 50 ppb were readily achieved (>99.75% reduction).
ARSENIC: This product uniquely targets the entire family of arsenic oxide anions as well as the arsenic cations. REPLACEMENT: Under normal conditions it is recommended that each set of two PF-2 elements be replaced after 1,000 gallons The Berkey Light system is about 2.75 gallons therefore the PF-2 filters should be replaced after 363 refills.
If the system is refilled about one time per day, the PF-2's should be replaced annually, if the system is refilled about twice per day, the PF-2's should be replaced about every six months. 9G Health Foods is an. For The Berkey Water System and its parts. Please let us know if you have any questions! Please use calculator below or contact ahead of time for a quick price quote.
The item "2 Black Berkey and 2 PF-2 Fluoride Filters New Royal Big Crown Imperial BB9" is in sale since Monday, April 6, 2020. This item is in the category "Home & Garden\Kitchen, Dining & Bar\Small Kitchen Appliances\Water Purification\Water Filters". The seller is "9ghealthfoods" and is located in Ashville, Alabama. This item can be shipped worldwide.